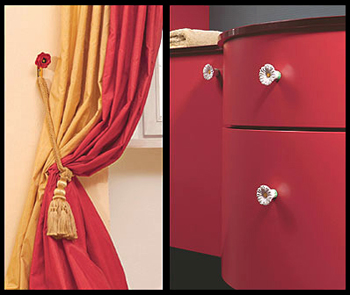 The purchase of large appliances or other major furniture acquisitions is a big step that takes time and planning. Once the new pieces have been delivered and arranged in the home, it's often the case that something doesn't seem quite right.
The discord may be simply that existing hardware doesn't match the new décor. Luckily, this is an easy problem that can easily be remedied by changing out the existing hardware.
Kitchen cabinet hardware is available in a variety of materials, colors and finishes to complete the look that new appliances give a room. If the existing cabinet hardware doesn't complement the new stainless steel appliances, simply change them out. You don't have to choose stainless steel hardware in the same finish, although that would be perfectly suitable. Instead, you can choose a material or design that draws from the overall theme of the kitchen because the stainless steel appliances are neutral.
Shapes, sizes, colors and finishes of cabinet hardware can be found to blend into any theme and layout of the kitchen with proper thought. A decorator with a good eye can even find cabinet hardware that will pick up the new feel in a room from a fresh coat of paint or design of wallpaper.
Countertops can also be used as a guide for choosing cabinet hardware. Or, choose a marble or granite knob or handle that matches the material in the backsplash premarin generic.
The same decorating concept goes for any room in the house.
Choose a romantic glass or crystal doorknob to give a finishing touch to a room newly decorated in shabby chic. Consider wood or wrought iron hardware for rooms with a rustic theme. Repeat the pattern with corresponding hardware for dressers, armoires, closet doors and nightstand drawers. The options are limitless and are an inexpensive way to bring the whole decorating scheme together.
When changing out the knobs, and handles on the cabinets, drawers and doors don't overlook door hinges. Buy matching hinges at the same time the other hardware is purchased. Make sure to pick up the appropriate screws, as even such a tiny element can throw the overall look out of kilter.
While shopping for cabinet hardware to coordinate the décor, don't overlook the switchplates. This is often an inexpensive way to brighten and refresh a room. Switchplates can be easily removed and new ones installed, making it a real value option.