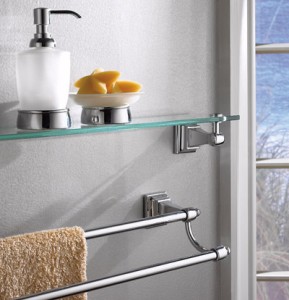 The bathroom is often one of the most neglected rooms in the home when it comes to decorating. Some homeowners are limited for space, making it difficult to make major changes. One of the best ways to add extra storage space in your bathroom and make it more modern at the same time is with glass bathroom shelves.
Glass bathroom shelves are beautifully designed. They can enhance any décor and add the extra space needed to make the bathroom more functional. Shelves can be placed most anywhere in your bathroom and they're easy to install. Therefore, you can put them in yourself with a ruler and screwdriver or small drill. Just be sure and measure the distance before installing to make sure you place it in the right position.
Glass bathroom shelves come in a variety of sizes and designs making it easy to find something that suits your personal taste and needs. Some of them have corners while others are designed with rounded edges. Some are wide, others are narrow and there are many sizes in-between.
The glass shelf brackets that secure the shelves to the wall also come in a variety of options. You can buy brackets made from polished chrome, satin nickel, antique English Matte and Venetian bronze to name a few. All of them come in a variety of styles giving homeowners many options to choose from.
Using glass shelves is an excellent way to modernize your bathroom and add much needed space at the same time. You can add just one or several bathroom shelves depending on how much extra room you have. Since they come in such a variety of sizes, you can find shelves to fit any size bathroom.
When choosing the right shelving options for your needs, it is always recommended that you see all that is out there first. Only then will you be able to get the most from your choice. You want to take some time to research and see the different types and sizes available. Then you can compare these to the needs that you know that you have with your bathroom storage and shelving. Then you will be able to make the right choice.