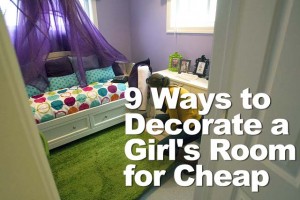 Decorating your child's room is a fun experience for both parents and children. However, seeing some of the costs of some of the items can be mind-boggling. Thankfully it's easy to decorate a girl's room inexpensively and without too much effort.
Use what you already have. Chances are you aren't going to want to gut the whole room in order to redecorate. There are going to be many elements that you can likely repurpose and reuse. If you have an older child who has items they don't need anymore, try adapting them into your other child's room.
Change the bedding. The bed is generally the focal point of a bedroom, so changing out the bedding can make a big splash in terms of turning a room around. Add a bed skirt, change a duvet cover or even just get a couple of new pillow cases.

Change the cabinet and door hardware. Changing little details can really make a room pop. Swap out your default cabinet hardware for something with a little more personality. Here are a few cute choices to decorate a girl's room with.


Painted Ceramic Flower Knob
in Pastel Purple
1 3/8″ Diameter Baseball Knob
44mm Rubber Flex Knob in Cat

Add shelving. Shelves are an easy and affordable way to organize a room. Maybe you have some photos or trophies you'd like to nicely display, or want to keep your daughter's more expensive collectable dolls separate from her everyday play dolls. Shelving not only gives things a place, but also gives you an opportunity to display nicer objects without taking up table or desk space.
Change out light fixtures. Lighting can make or break a room. Bad lighting can make even the most well-designed room look dumpy. Switch out overhead lights with high-quality lighting solutions, or add some table or floor lamps to add additional light to a dark room.
Organize toys and games. While most kids have trouble keeping a room clean, giving everything a space will make a child more likely to put things away. Try getting a stuffed animal hammock, set aside space on a bookcase for puzzles and games and have a box ready for miscellaneous toys.
Paint and wallpaper. We've all seen how a little paint and wallpaper can make a room look completely different. Believe it or not, even small painted details can dramatically change a room. If you don't want to paint a whole room purple, try painting an accent wall or even just the molding around the room. Wallpaper can be a little more costly but can add a bit more texture and life to a room than paint can.
Frame artwork. Just taping art onto the wall can look messy. Buying inexpensive frames and creating a small gallery wall looks elegant and protects pictures from damage.
Reorganize furniture. Take a look at the room and see if you could position things differently to make the room a bit more streamlined. Would moving the bed to another wall allow for more place space? Maybe you can fit the dresser into the closet? Try a few things out. You might be able to change the room to your liking without spending a cent.