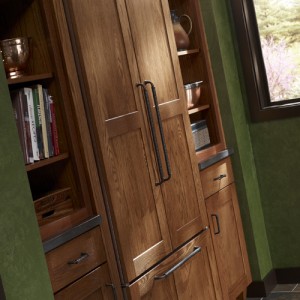 Customers often ask us if there is a set size bar pull that goes on a specific drawer size.  Your preference should be your number one reference.  There is no rulebook for bar pulls, however, there are a few guidelines that have proven to be helpful:
Quantity Makes a Difference
The layout of your room is an important factor to consider.  If you are looking to use bar pulls in a kitchen with many drawers and cabinets clustered in one area, extra long pulls may put your kitchen at risk of hardware overload!  Scaling back a little may be pleasing to both your eye and your wallet.  We suggest using painter's tape or wooden dowels as templates before you order.  Cutting the approximate lengths of potential pulls and holding them up in your designated room will give you a greater idea of how much is too much.
Ultra-Contemporary = Ultra Long