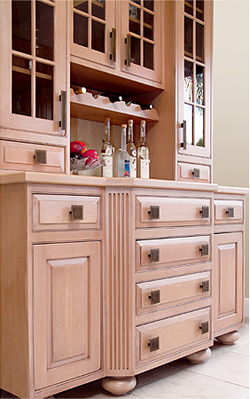 When you want to add a touch of style to your kitchen or bathroom, installing decorative cabinet hardware can really make a difference. From polished brass or stainless steel to crystal and glass handles and knobs, it is quite easy to give the whole room a fresh, decorative look by incorporating different cabinet hardware. Imagine a kitchen with stainless steel appliances. The stainless steel can cause even rich wood cabinets and drawers to feel cold and stark. But when you add elegant rich gold tone cabinet handles and knobs you are adding a touch of warmth and richness to the room.
The same can be done in a modern black kitchen. Black cabinets look wonderful with stainless steel handles, intricate antiqued knobs and other stylish touches that you can add, and are sure to make a statement. Bathrooms are another place in the home where cabinet hardware can make a huge difference in the feel of the room. For example if you have a pastel colored bathroom with light airy colors you can easily find simple decorative pull handles for your drawers and cabinets.
If you have an opulent luxurious bathroom with rich colors like burgundy and gold, you can also find gold toned or brushed brass cabinet hardware to complete the look. The bathroom also offers many other decorative hardware options including towel racks and shower door handles. It is easy to add a touch of class to any color scheme or design by using decorative cabinet hardware.