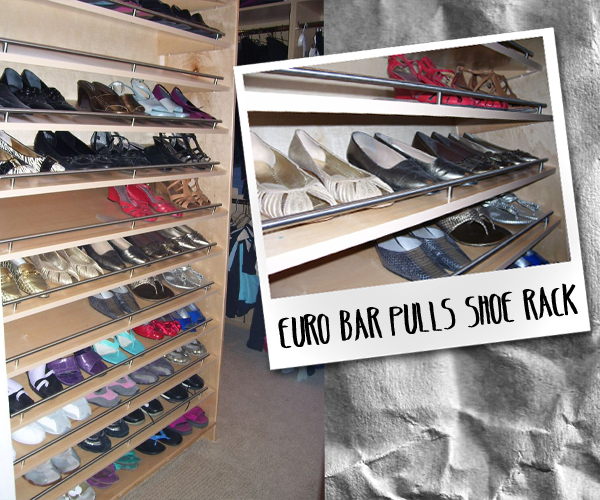 A customer of MyKnobs.com informed us of an alternative use for our European Bar Pulls they had recently purchased.
Besides utilizing European Bar Pulls for your cabinets and furniture, you can also use them as a shoe rack stopper for your closet.
Mary Lou., of Murrieta CA wrote: "I was in the process of a major remodel to my master bedroom, bath and a new walk-in closet. My contractor designed a large shoe storage system for my closet, but we needed something to brace the shoes on the angled shelves. It need to be something that would allow a view of the shoes. The stainless steel bar pulls were perfect for the end braces on the shelves. I now have the most fabulous shoe storage and display system ever. The envy of all my friends."
Another exciting aspect about this project are the options of various finishes we offer at MyKnobs.com, to accommodate your style needs. We also carry lots of Brands so you are sure to find what it is you're looking for.
Don't forget, If you have any cool projects of your own involving Euro Bar Pulls, tell us your story so we can share your creativity!