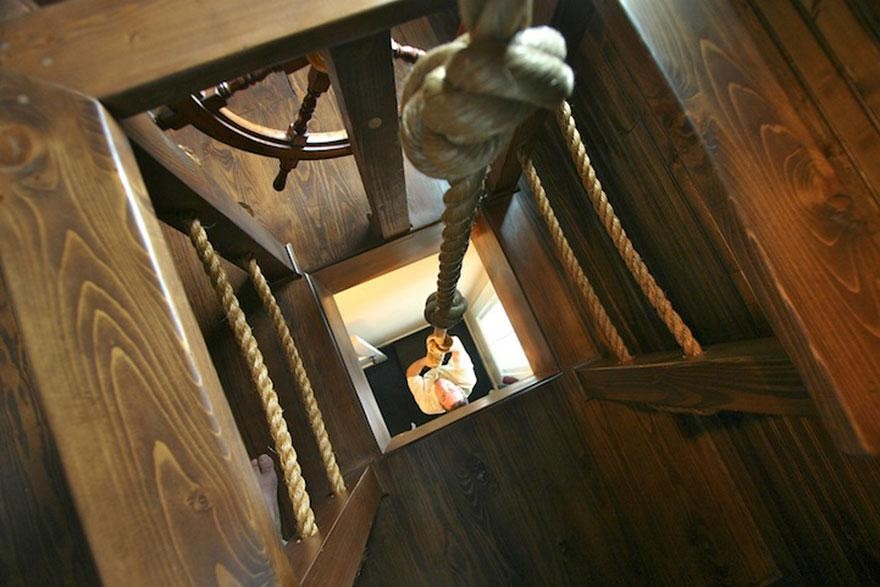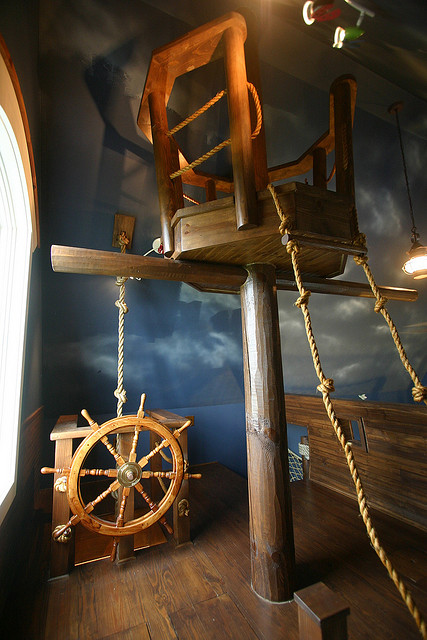 We have all seen those extravagant bedrooms for children, whether it be on Pinterest or other home-decor blog sites. They are literally what dreams are made of. Pictured above, is a pirate-themed bedroom. As you can see from the pictures, the creator of this fabulous bedroom utilized faux brick, for the sides underneath the draw-bridge. The pirate ship itself is made of stained wood, as is the draw-bridge. The ceiling was painted in mural-like fashion, while the walls have sea-life decals.
For us common folk, this bedroom seems impossible to create, right? Well, what if I told you that you could achieve a more affordable, under-water themed bedroom? Even though a pirate ship is seemingly impossible to incorporate into your child's bedroom, it doesn't mean you can't try to get as close to an underwater fantasy world as possible.
Let's start off with the basics. The first step you would need to take is painting over the bedroom walls. The blue pictured above is a nice color to go with or, you could go with a different hue, based off of what you think would best fits your child's bedroom.
Next, we have the wall decals. After doing a little research of my own, I came across a handful of websites that carry a multitude of wall decals. First on my list, is AllPosters.com. They carry quite a few marine decals, specifically geared towards children's bedrooms. I've used them in the past for many things therefore, I'm a big fan. All orders come in a timely fashion and are packaged nicely as well. The only downside is that, their marine decals are a little more flat with a cartoon look and feel. If your child is out of that Sponge-Bob phase, I would suggest venturing onto the next site on my list.
WallDecorshops.com has many wall decals to choose from. Sticking with our subject, they have really great marine life decals, all highly-detailed. Depending on what you are specifically looking for, this site has a good variety of die-cut adhesive decals. I would also like to warn you that, walldecorshops.com get a little pricey. I'm not sure if I would necessarily pay $40.00-$100.00 for a dolphin's face, unless of course it sang me the Flipper theme song.
Which brings me to my third site on the list. WallStickerOutlet.com, is one of the better sources for this specific theme. The wall decals on this site are a pretty close match to those pictured above in the pirate room. The best part is the price of the decals featured onWallStickerOutlet.com With each order you receive 4 sheets of 10×18 inch decals. Not only that but, shipping is free for those in the U.S.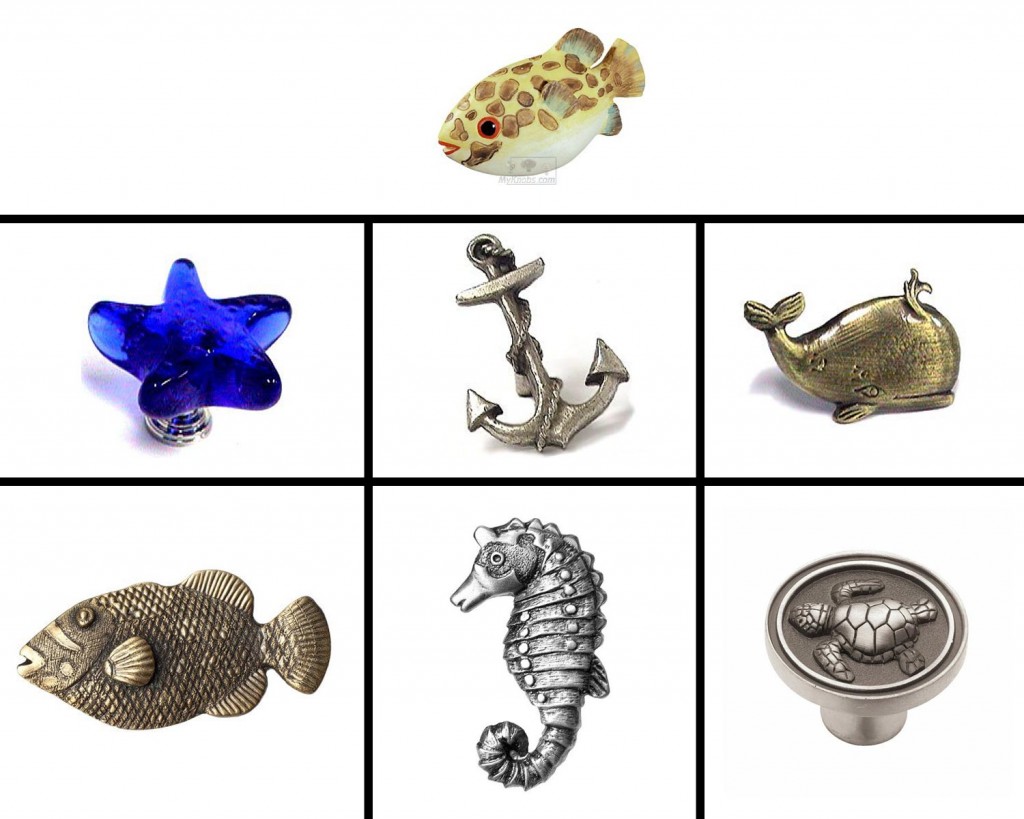 So now we have our wall colors down and our decals to really bring the pirate/nautical theme to life. What's next? Well, since we can't build a pirate ship, we are going to have to improvise here. Rather than throwing out your child's perfectly good furniture, why not accent it? MyKnobs.com has a variety of knobs and handles for doors, dressers, knight stands, etc. You name it- they supply it. What I like about their website, is how they give the consumer the option to choose a category by theme. This cut the time down for me and enabled me to find what I was looking for rather quickly. I will say, I am actually a bit surprised that most of the other websites that manufacture specialty home hardware/decor items, lack this feature on their websites. Anyway, getting back to accenting our furniture– I found a wide variety of specialty cabinet hardware to accent the room. There's a nautical category which carries knobs that range from pewter to antique brass, brushed chrome and many other finishes. The price range can vary, usually from $3.00- $15.00 per knob.
Next comes the switch plates. Opting for a more decorative switch plate is honestly, a great way to spruce up a room and add a nice accent to your theme. I'm going to go ahead and group switch plates and lamps into the same category. SwitchPlateGallery.com has some really cute switch plates to match the nautical theme. They're relatively cheap, ranging anywhere from $3.00-$5.00 on their site.
So now we venture on to lighting. The complexity of what you are looking for will certainly impact the pricing range. Unfortunately, lighting in general isn't cheap. Whether we are talking about floor lamps, desk lamps or chandeliers, they are all going to cost you a decent amount of money but, that doesn't mean you have to break the bank in order to achieve your end goal. I stumbled upon a site called Bellacor.com They have really beautiful lighting fixtures. Relating to our theme, they do have some pretty cool coral lamps, comprised of resin material. The website's price has it listed at $127.46, which is actually on sale right now for the upcoming holiday.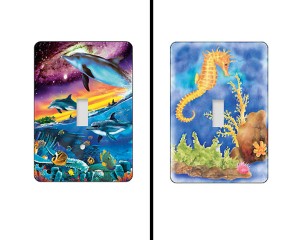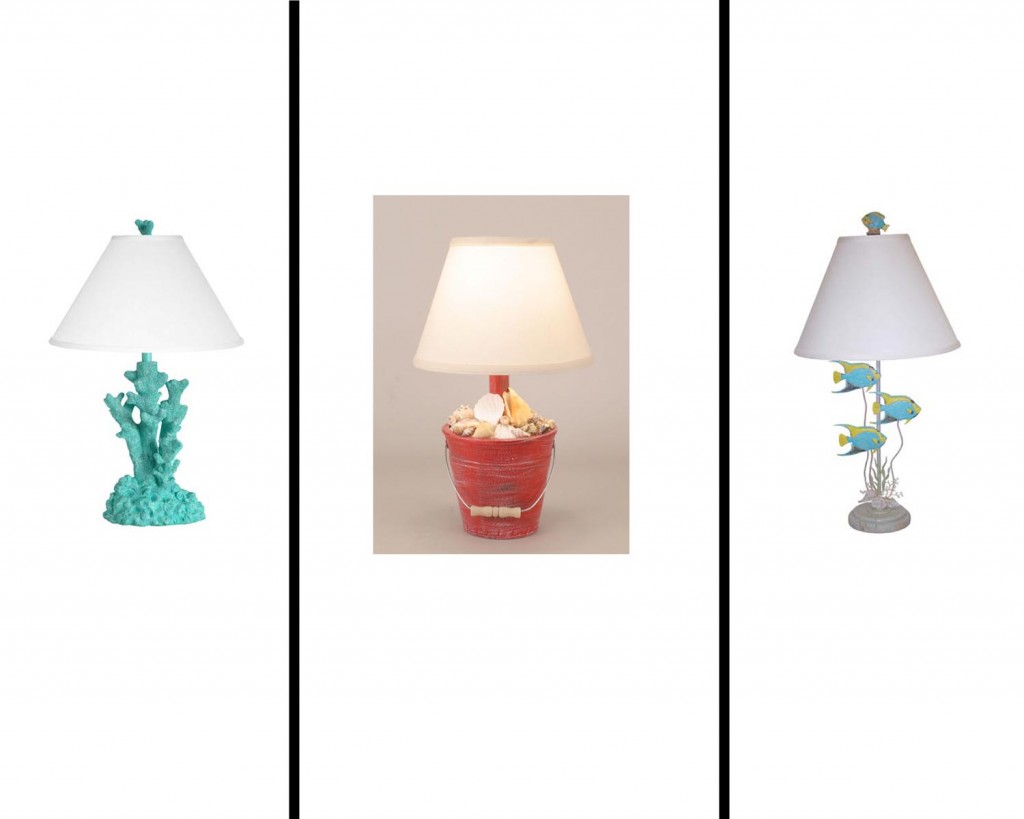 Another accent you can add to your child's bedroom is a bedspread, throw cover, or a duvet. Of course every child would love to have a race car bed or something resembling a pirate ship, we all were there once. Unfortunately, specialty beds like that can really run up the bill of redecorating a room. What I did for a tropical themed kids room, was research specialty comforters and bedspreads. I ended up finding a retailer that shipped directly from Hawaii. The bedspread was really affordable and was also reversible! Houzz.com, had a really cute duvet cover. It's a little pricey but, it's worth it for the amount of money you save in total for renovating your child's bedroom. I also came across many others, ranging from the hyper-realistic to a more flatter, vector-themed style. When choosing a bedspread it's all about personal taste, comfort and also, affordability.
Adding all of these accent pieces to your child's bedroom will really transform the space tremendously. If you find decorations that fit the theme you are going for, then by all means, add it to your room.
Good Luck and Happy Decorating!