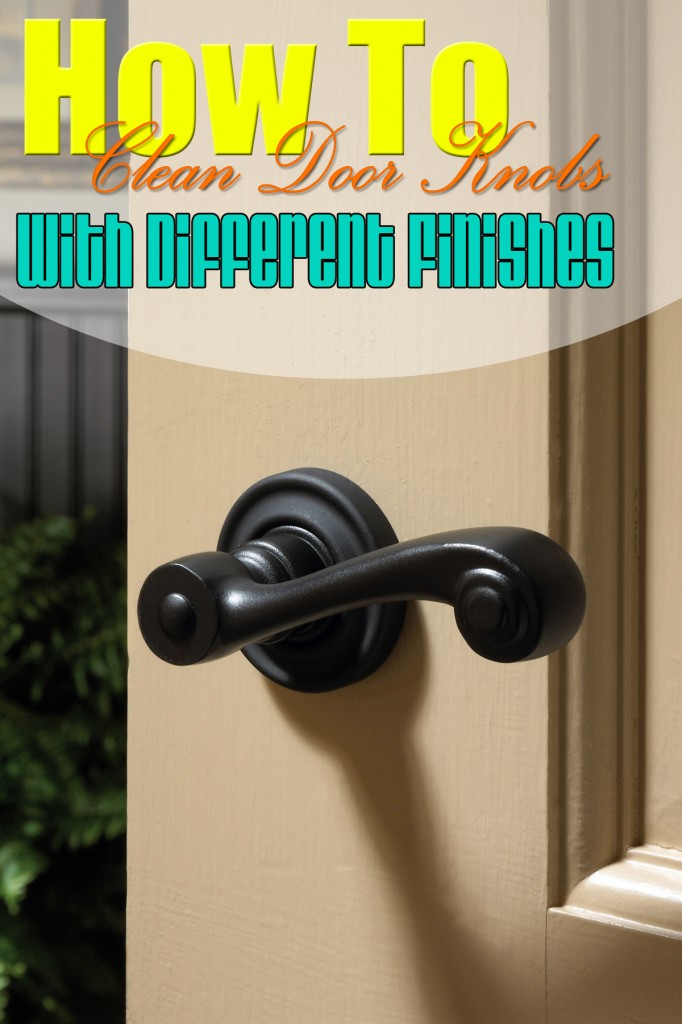 It's that time of year again! The holiday season is now upon us. It is known to many as a joyous time, spent with family and friends. A time for enjoying all that the holiday season has to offer. Unfortunately, it is also now the heart of flu season.  But fear not, we have a comprised a list of various ways to clean and disinfect the most prominent area of the house known for passing on germs; Door Knobs!
Today, doorknobs can come in a wide variety of finishes. Everything from brass to nickel, stainless steel, bronze, chrome, painted aluminum and even crystal. Knowing how to clean each of these surfaces efficiently without ruining their finishes, is the tricky part check this site out. Lucky for you, we have researched the various ways that you can effectively clean your door knobs to bring out that original shine, and also disinfect in time for flu season.
Brass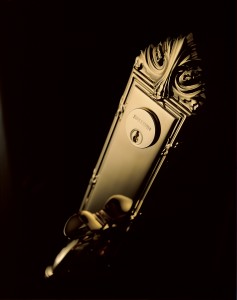 Brass is quite the popular finish and has been around since ancient times. Made of alloy, zinc and copper, brass has been used for various things over the years. Maintaining its popularity are brass door knobs. Since brass is a durable metal, many people choose that over any other finish. Its acoustic properties prevent rust and corrosion. One of the easiest ways to clean and disinfect brass is to use simple items you can usually find sitting around your house. Lemon juice is great for cleaning. Its acidic properties work very quickly in breaking down any dirt and grime build up. The plus side, it smells great too! Another favorite household item that seems to continuously make its rounds in various cleaning articles, is white vinegar. White vinegar is not only a safer alternative to using harsh chemicals but, it leaves brass with a beautiful shine, making it look the same as it did the day you installed your doorknobs.
Fill a large bowl with 2 parts vinegar and 1 part warm water.
Let door knob soak for 15 minutes.
Gently rub with a soft rag.
Rinse off with warm water and buff dry with a clean rag or cloth.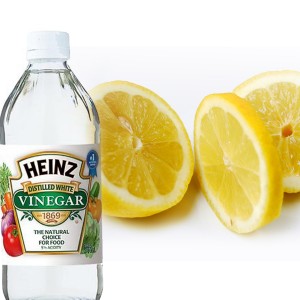 ---
Nickel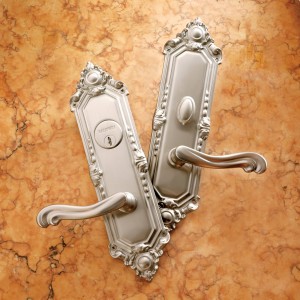 Nickel tends to have green tarnish that can build up on its surface. WD40 comes in handy when handling nickel. Special metal cleaners are also good to use as well. Remember to test small spots out on the surface first, as to assess any damage should there be any.
Grab some WD40 and fine steel wool.
Spray a small amount of the WD40 onto the area you want cleaned and apply the wool to the surface, making small circular motions.
If you have thin nickel plating, or are simply afraid of taking the chance using fine steel wool, you can always use our good friend, white vinegar.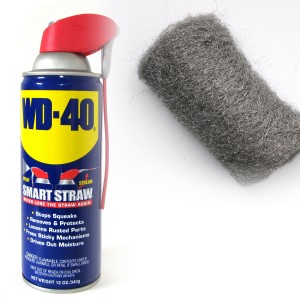 Fill a large bowl with 2 parts vinegar and 1 part warm water.
Dip a cotton rag into the solution and apply to the knob.
Use circular motions as with fine steel wool until surface appears cleaner.
Repeat until desired look is achieved.
If neither of these options work for you, you can always clean your nickel door knobs/handles, with pure ammonia.
You must use pure ammonia, not the diluted kind.
Make sure the area in which you are cleaning in, is properly ventilated.
Pour the Ammonia into a large bowl and submerge the knobs in the solution.
Leave the knobs in the ammonia the several hours or, overnight depending on preference and type of nickel.
Upon pulling the knobs out, wipe the dirt and tarnish with a soft cloth under clean, warm water.
---
Stainless-Steel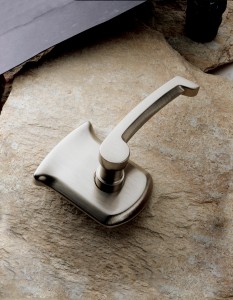 Stainless-steel, although beautiful in appearance can be quite a pain in the neck to maintain. Most people don't realize how often you really should be cleaning stainless-steel household items and appliances.
Cleaning stainless-steel knobs will help protect them and also maintain their appearance.  If you have stainless-steel door knobs in your home or office, follow these directions below.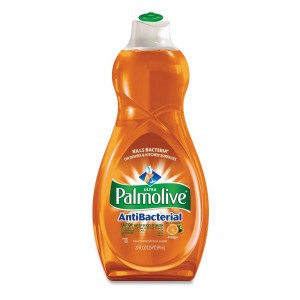 Fill a bucket or bowl with warm water.
Add 1 tablespoon of detergent to the water until suds begin to form.

Dip a soft rag into the soapy water and squeeze out the excess liquid.
Wipe knobs with soapy rag until dirt appears to come off.

Once desired look is achieved, rinse off with warm water and buff dry.
(If you have stains on the steel door knobs, you can use a mild abrasive cleanser on them. )
---
Chrome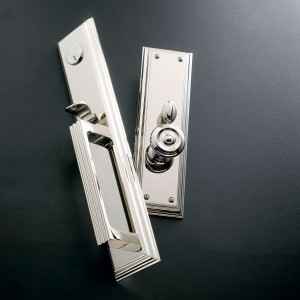 Chrome is one of those finishes that is really eye-catching. It's also very easy to get dirty. Because of its smooth surface, chrome tends to show every single smudge,fingerprint and scratch. That's why it's important to really maintain it regularly. Luckily, there are many chrome cleaners out right now. A popular favorite is, Mother's which is actually meant for chrome rims but, it will work just as well for your door knob.
Another way to get rid of stubborn stains and dirt on Chrome, is to use baking soda.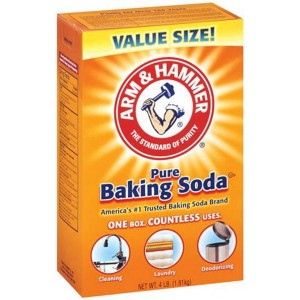 Take 1 tablespoon of baking soda and pour into a bowl.
Add water to the baking soda and mix until it forms a paste-like solution.
Next, take either a rag or a soft-bristled tooth brush and gently rub the surface of the chrome.
Gently rinse off the baking soda with clean, warm water.
Wipe dry with a micro-fiber cloth.
If you're looking to clean and sanitize your chrome knob remember, you can wipe down the knob with vinegar and water as a finishing product.
---
Black Matte Coated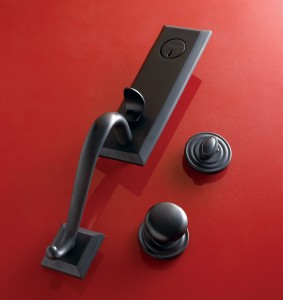 Black Matte Coated door knobs are typically comprised of either a zinc alloy metal or solid brass as a base, which is then plated with the black matte finish. A protective lacquer is then applied in order to preserve the black matte finish.
Because of its delicate composition, only mild soap and water can be used on these door knobs.
Mix two parts of mild detergent with warm water (You can use antibacterial soap if you wish to disinfect, as well).
Take a soft cloth or rag and submerge into the detergent solution. Make sure to ring out any excess liquid, as to not saturate the knob.
When finished removing dirt and disinfecting the knob, take a clean, damp cloth and wipe clean.
Dry with a soft, clean cloth or rag.
---
Crystal
Crystal door knobs are very popular, and very beautiful if you can afford them. Like anything else, with beauty comes a price. Crystal is a magnet for dust but, what makes crystal tricky, are the translucent properties which make it difficult to really ascertain the level of dirtiness. Crystal is also very delicate. Much like the black matte coated knob previously discussed, crystal needs to be cleaned with a mild detergent or white vinegar. You can combine both solutions together in a bowl, in order to get that shine you desire. Since crystal mimics glass, vinegar is the better choice for cleaning/sanitizing the knob. White vinegar eliminates streaking and water spots which is why it is also a great solution for cleaning mirrors and glass tables.
Fill a bowl with warm water and a few drops of detergent.
Add 1/4 cup of distilled white vinegar.
Use a lint-free cloth and submerge into the solution (you can also use a baby's bottle brush).
Rinse clean with warm water and pat dry with a clean, lint-free cloth.
Well, now you know how to disinfect and remove dirt, safely from each finish.
–Happy Cleaning!