If you've recently replaced your cabinet hardware, you've probably got a lot of old cabinet hardware laying around. You don't have to just throw it out, there are plenty of things you can do with it. If your cabinet knobs are attractive and still work properly, you can use these old knobs for a myriad of different home improvement projects. For the crafty types, here are a five things you can do with your old cabinet knobs rather than throwing them out.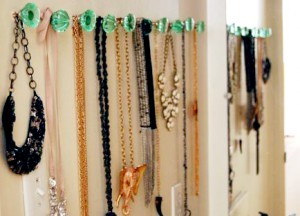 1. Use them as jewelry hangers. Install them in a row on a plank or attach them directly to a wall. To do this, screw a hanger bolt into the cabinet knob. You can then screw that directly into the wall. Hang necklaces, purses or even clothing items from the knobs. This is a quick and easy DIY project that has a lot of impact for a room. If the knobs don't match your decor, paint them a color that will work for the room.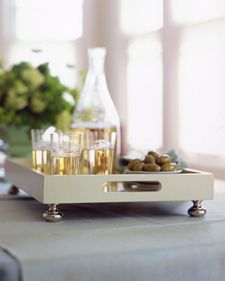 2. Add knob feet to a simple wooden tray. If you need to, replace the screws in the knobs with longer ones. Then you just have to simply screw the knobs into the bottom of the tray. You can paint over the surface of the tray if you don't like the look of the exposed bolts. The tray can be used as a serving tray for an elegant breakfast in bed, or it can be placed on a table and hold candles, a flower vase or other decorative items.
3. Use them as towel hangers in the bathroom. If you don't want a traditional towel bar or towel hooks, using cabinet knobs is a pretty glamorous way to hang up your towels. Place them on the way as you would for the jewelry hangers in step 1.
4. Screw old cabinet knobs into the lids of cleaned out pickle or spaghetti sauce jar lids. You can decorate the jars anyway you see fit and store hair accessories, snacks, pet treats, or anything else that will fit. This is a nice little decorative piece that will look lovely on your counters.
5. Hang wire shelving units from them for more wall storage. To do this you'll have to attach a #8-32 hanger screw to the knob and screw it into a stud. Likely these shelves will be holding some weight, so don't just place it anywhere on the wall. This is a great idea for a shower area that doesn't have any shelves, or for a kitchen to store spices.