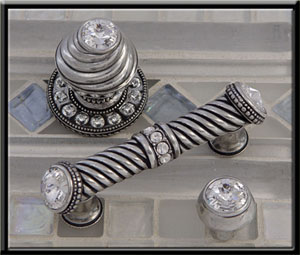 When looking for an elegant way to dress up wooden doors, drawers or cabinets, explore the possibilities offered with glass and crystal knobs, and handles.
Crystal quality is usually determined by the amount of lead that is used in the manufacture of the handle, knob or pull. Crystal is described as full lead crystal if it consists of 23% lead. The light that comes through makes it glisten and picks up color from the light refraction.
Lead crystal with lower lead content doesn't refract the light in the same way, so the colors and sparkle of the sunlight in the crystal quality are diminished slightly, though still beautiful.
High lead crystal is easier to cut than lower lead crystal because it is softer. The high lead content crystal is also easier to decorate. If crystal is manufactured with less than 23% lead, it is considered a standard crystal.
Glass manufactured with minute lead content is really not considered a crystal product as it is just glass, although designers often use the term crystal when talking about the material.
No matter what the lead content of the glass or crystal, the material offers a wide variety of choices for knobs, and pulls when dressing up furniture and cabinetry. From newly manufactured pieces to collectables, putting the finishing touches to a room can easily be done by choosing the right glass or crystal hardware.
Modern Glass Knobs
There is almost no limit to the color availability in a modern knob made of glass. The styles are also almost limitless. From sleek modern styles, to homey comfortable styles and even a faux antique look using modern glass knobs you can outfit your cabinetry to suit your style. The advances made in the world of decorating and manufacturing has led to many different styles and shapes, colors and designs in modern glass knobs.
You may find as you shop for glass knobs that you have a great deal more options than you expected. From faceted cut glass to blown glass in almost every color, the ability to spruce up your cabinetry and lend a stylish look to your décor is as easy as choosing which glass knobs you like best.
Because décor is such a personal choice, there are no rules, you can use crystal, you can use glass, and you can use stainless steel or whatever material you enjoy to open your cabinets.