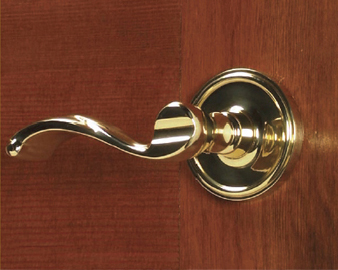 Door knobs and levers are chosen for specific applications and for functionality. With the options available on the market today, décor, safety and functionality can all be combined in the perfect choice.
If you haven't heard of pocket door hardware, this may interest you. This door hardware allows the door to slide into the wall rather than open front to back. This is ideal for smaller rooms or hallways that would be cramped by a swinging door. When installed properly these doors are very unobtrusive and appear to simply be part of the wall when closed.
A single dummy door lever can be used on any door that simply pulls open and pushes shut from one side of the door. It has no movable parts and is attached to the outside of the door. A full dummy door lever also has no movable parts, but is installed on both sides of the door, allowing the door to be opened and closed no matter what side of the door you find yourself on. Use a full dummy door lever on a door that has a pre-drilled hole for a door knob. A double dummy door lever would serve the same function as the full dummy, but is attached to the door that has no pre-drilled door knob hole.
Dummy door levers are used when no latch is needed to keep them secure premarin cream. They are simply a decorative handle with no moving parts and no locking features.
A passage door knob or lever is used when a door must stay securely closed but does not need to be locked. This type of door hardware has moveable parts that allows walk in closets, children's rooms and other doorways that do not need a lock to be opened and closed.
A privacy door knob or lever incorporates a locking device which is activated with a thumb switch from one side of the door. This type of door handle is usually used on a bedroom or bathroom door. A safety release is found on the other side of the door. These levers allow the person inside the room to be assured that their privacy will be respected.
A keyed door knob is used for more security. The lock is set from one side of the door, and a key is needed to open the door from the other side. This type of door knob or lever doesn't have an emergency release available. Anyone on the keyed entry side of the door needs the key to unlatch the door.