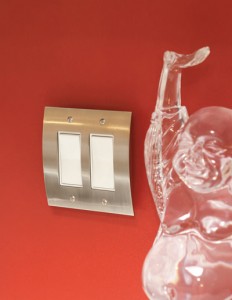 There are many small changes that you can make within your home to enhance your decor and one great way to make a difference is by installing decorative switch plates. The switch plate was originally designed as a way to protect you and your family from the electrical wires within the walls. They still serve this very important function but they're not all just plain and simple anymore.
Decorative switch plates come in a variety of styles and colors. For example, some of the finishes include antique bass, copper, flat black, satin pewter, marble, nickel plated and chrome but there are still other options available. They're also available in many different designs from the simple to the extravagant. They come in a variety of prices but most all of them are very affordable making it possible for you to choose a designed that suits your needs and décor perfectly.
Some of these are plain while others have designs etched into the edges and some of them are themed orientated to make them more decorative. For example, you can buy switch plates designed for nurseries, children's rooms or ones that are animal or sport themed. Some are designed especially for bathrooms and kitchens and some can be used anywhere. There are many options to choose from.
Decorative switch plates not only help you enhance your home décor but they make an excellent housewarming gift or they can be given as gifts for baby showers and birthdays. Do you have someone on your gift list that loves to decorate their kitchen with flowers? A decorative flower switch plate would make an excellent gift. Is there someone on your list that's attracted to unique items? One of the odd shaped switch plates would be a great choice. In other words, there's something to suit most anyone's taste.