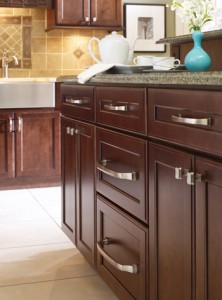 Caring for decorative hardware should provide our customers with years of beauty. Most modern day finishes should last a lifetime with the proper care and maintenance.  However, keep in mind all hardware surfaces are "stain resistant," not "stain proof." The sooner stains and grease receive attention the easier they are to remove. Stains can set over time if they are allowed to settle penetrate into the surface of protective coating.
Do's
Dry surfaces immediately with a soft, lint-free cotton cloth.
Use a soft, lint-free cotton cloth dampened with a mild detergent or soap, and warm water.
Keep sharp items, such as knives, away from hardware. Dropping a knife and having it hit your hardware can cause scratches and dings.
Use care when opening drawers and cabinets using a pull or knob. Most decorative hardware just requires you to place your fingertips behind the hardware and pull. You should not have to grab the pull and yank on it. Not only does tugging on the pull cause unnecessary strain, but the oils from your hands can damage the hardware over time. While it sounds a bit silly, caring for decorative hardware requires you to keep
Use a cotton swab to wipe down hinges and get into the small crevices. If your hinges are getting squeaky, a small amount of vegetable oil applied to the hinge should quiet things down.
When cooking, turn on your hood fan to cut down on greasy build up.
Don'ts
Avoid draping wet or damp dish towels over the hardware surface for any length of time.
Never use scouring pads, steel wool, wire brushes or powdered cleaners.
Avoid using a dish cloth or sponge – Harsh detergent residues may harm finishes.
Avoid ammonia-based cleaners and soaps with dye for your decorative hardware.
Don't use the same sponge or cloth you use to clean your dishes or counter tops with to clean your hardware. Residue from previous cleaning products can linger and may damage your hardware.
When in doubt of a cleaner's suitability, don't use it. Harsh cleaners and detergents may scratch and penetrate the surface, allowing food or moisture to enter and cause deterioration of the finish.