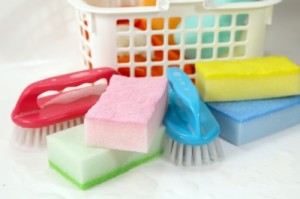 You can spend a great deal of money of decorative hardware for your cabinets and drawers.  These pulls can cost up to thirty dollars a piece if they are made out of certain materials.  You do not want to spend all that money and then ruin them by not properly maintaining them.  There are some care tips that can help you to care for decorative hardware and keep it looking great.  The type of care they require depends upon the material that they are made out of.
Brass – Brass looks lovely in any room of the home and it can be quite shiny.  The last thing you want to use on brass are harsh abrasives that can take off the natural patina.  Instead, use a good brass polish to keep it nice and bright.  Before polishing, clean them gently with soap and water.  Always use a soft, lint free cloth when cleaning or polishing brass decorative hardware.
Bronze – When you choose bronze hardware, you probably did so because of the deep color of the metal.  Bronze can polish itself up just with regular use.  This is the beauty of it.  Because it contains brass, the wear spots turn a lighter color than the rest of the metal over time.  This is supposed to happen so do not panic.  When cleaning bronze, use a soft cloth with beeswax.  This is going to deepen the darker colors and brighten the lighter while adding an overall shine.
Stainless Steel – Again, do no use harsh chemicals when cleaning stainless steel.  This can remove the natural shine.  Clean any dirt off with a soft clean cloth and follow with a quality stainless steel polish.  Make sure to follow the manufacturer's direction when using the polish so you do not damage the stainless steel decorative hardware.
Crystal and Glass – These can be cleaned by using soap and water.  After cleansing, they can be polished by using any common household glass cleaners or you can use a solution of vinegar and water.  Make sure to dry them well to remove any water spots or streaking.
Wood – Wood can be cleaned by using a wood cleaner.  Polish the wood with wood polish using a soft cloth so it does not scratch.  Every once in a while you need to use a stripper to remove any build up of wax and to bring out the wood's natural color.
If you properly care for decorative hardware, it stays new looking much longer.  Just make sure you never use harsh chemicals or they may become damaged.  Use the proper cleaner for the type of material that the hardware is made out of.