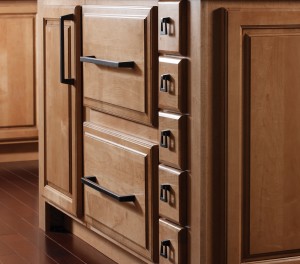 A simple way to change the look of existing cabinets and drawers is to add decorative knobs and handles. With the wide assortment of materials, designs and sizes available, it is an easy task to find the appropriate hardware that not only adds functionality to the storage area, but will add complement the décor of the room and reflect personal style. Often the proper choice of hardware can be used to pull several elements together to give the impression of a professionally decorated room.
Choosing the right knobs and handles is not the only area where personal style is displayed. Determining the placement can also be a big part not only of functionality, but of design.
You can mount cabinet hardware either horizontally or vertically. Some people choose to install a handle or pull horizontally on drawers and place the same hardware fixture vertically on the cabinet.
New hardware on drawers can also be mounted singularly, in the center of the drawer, or a pair of pulls or knobs can be installed on a wider drawer. Let your choice be made governed by stability and personal appeal.
Once you have decided on the orientation of the new hardware installation, the ideal location of the handle will have to be determined. Make sure that it is within the comfortable reach of the user. Check to make sure there will be proper clearance of nearby appliances when the drawer or cabinet is open, so as not to cause damage.
Before drilling the first hole, picture the symmetry of the finished design. Many rooms have different sizes of cabinets, drawers and doors, and it's possible that the visual effect of the new hardware will be distracting and unbalanced if it is placement is determined by the door dimension rather that the overall flow. For example, cabinets above the stove and over the refrigerator are quite high, and a door pull placed one third way from the bottom will not only be unpractical for functionality, but can be an eyesore because of it's placement.
A narrow drawer will look odd with two handles, even thought a wider drawer in the same room may require a double handle for stability.
Luckily, quality cabinet hardware offers the ability to choose a pattern and style that is available in handles, pulls and knobs in a wide range of sizes. Mixing and matching until the perfect combination is found will make mounting placement work for you.