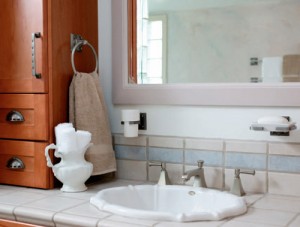 Bathroom accessories can make all the difference in your home bathrooms. Whether it is a master bath that you will mainly be the only one using or a guest bathroom that is meant to help your guests feel comfortable and at home, there are accessories to suit every need and décor style.
Bathroom hardware and accessories can make all the difference in the overall appearance of the bathroom. They are also a great way to give your bathroom a mini makeover. If the bathroom is looking old and outdated, changing the hardware and accessories can make a world of difference, even if you are on a budget.
Some of the most common bathroom accessories include:
These accessories are what turn a bland bathroom into a special space. These are the little touches that make a house a home or turn an ordinary office space into a comfort area. It can turn your office into a more professional space because you have a professional restroom area. There are just so many great reasons to have the bathroom that you want that you can see why bathroom accessories are such a popular market.
Here are some additional tips to buying bathroom accessories:
Plan head and know what your budget is
Spend some time "window shopping" first so that you can see what is available to you
Compare prices and what you get from those different prices
Use photos from bathrooms you like as inspiration
With these tips, you can find the best bathroom accessories for your needs each and every time. Keep in mind that the bathroom is used for several different purposes. It is also the one room in the home that your guests are most likely to be in alone. This means they may really check it out and you want everything to be in tip-top shape.