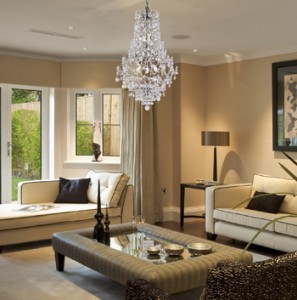 Chandeliers are more often than not thought of as a luxury, reserved for the wealthy and used only in large homes and upscale venues. However, these are misconceptions that we will unravel along with other false ideas in the following ten myths about chandeliers.
1. Chandeliers are too expensive. Chandeliers today are available in a wide variety of styles, shapes and sizes, including the popular mini-chandelier. There is certainly one for every taste and budget.
2. Chandeliers are antiquated. The concept of chandeliers certainly came from times long past, when hanging candles from a frame attached to the ceiling provided an excellent means of illumination as well as reducing the fire hazard of candlesticks that could be knocked over. However, nowadays chandeliers range in material and design from every prominent style period and region throughout history. Traditional, crystal and Tuscan chandeliers add class in any setting, whereas modern, contemporary and eclectic varieties will appeal to most every other taste.
3. Chandeliers are difficult to clean. Cleaning your chandelier shouldn't be too hard, even mounted in a two-floor entry, if you follow the right procedures. A lightweight cotton sock, sprayed with window cleaner and placed over a thin feather duster with an extension handle does a pretty good job.
4. Chandeliers cannot be used in kitchens. In modern times chandeliers have become acceptable lighting solutions for almost every space, including kitchens. There are two main reasons for this. Firstly, there are more affordable options available today making a chandelier in the kitchen fit into more budgets. Secondly, kitchens have become a part of our living spaces. Whereas historically kitchens were closed-off rooms, usually out of the way, they are now considered the heart of the home, and we find ourselves spending more and more time here doing a variety of activities, not just cooking.
5. Can I use a chandelier in the bathroom? Again, the answer is yes, yes, yes!
6. Chandeliers are too big. The truth is that chandelier sizes range from the massive varieties used in concert halls to teeny mini-chandeliers suitable to be used in bathrooms and powder rooms. A trend towards smaller, compact chandeliers measuring 9 to 12 inches in diameter, make it possible to incorporate them into smaller rooms or areas in the home. Mini Chandeliers or "Chandelettes," add a new sense of intimacy to small rooms and to corner spaces, and alcoves of larger ones. For added impact, consider grouping them – for instance by hanging several above an island or bar area for great impact.
7. Parts are difficult to find. If it once was, the internet changed things very quickly! Parts can easily be ordered online – even the so-called "hard-to-find" vintage parts might only be a Google search away.
8. Are there chandeliers suited for children's rooms? As before, with the varieties available today one can easily find something suited for a child's room, moreover, something to match every child's personality. Chandeliers of any kind create drama throughout the home. And who loves drama, sparkle and fantasy more than children. So go on, create a magic ballroom for a little princess and let the glittering reflections lull her into dreams of magic wonderlands.
9. Aren't Chandeliers hard to dress? Dressing your chandelier is as easy as hooking on strands of crystal through little holes in the frame.
10. You can only use transparent crystal for chandeliers? While clear crystal sparkles, reflects and refracts light to great effect, crystal and stone options in a rainbow of shades allow your chandelier to compliment any decor. Popular options include amber and other colored crystal, amethyst, Smokey quartz and rock crystal.